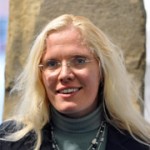 Lecturer: Dr Karina Grömer, Naturhistorisches Museum, Wien
Time: Thursday, October 27th,  19:00, Auditoriet i Suhmhuset
Hallstatt in Austria is a UNESCO World Heritage site, one of the most famous archaeological sites in Europe. The earliest part of the Iron Age is called the Hallstatt period, due to rich archaeological finds excavated by Johann Georg Ramsauer 150 years ago. The reason is the abundant salt deposit in a valley high above the Hallstätter Lake. Salt has been extracted here for 7000 years.
Since 1960, archaeologists from the Naturhistorisches Museum Wien have been excavating in Hallstatt, and have discovered extensive mining systems from the Bronze Age as well as from the Iron Age. Deep shafts connected several galleries; remains of loading points, hoisting shafts, a collapsed wooden staircase and a variety of broken tools inform us of an advanced mining technology and knowhow. The salt has preserved an abundance of organic materials such as lighting tapers, rope, leather carrying sacks and palm protectors and remains of a variety of textiles – all things that very rarely survive the passage of time. They offer us tantalizing glimpses of the miners' life, of prehistoric craftsmanship, and of the organisation and infrastructure that was necessary to keep the mines going.
The textiles recovered from the salt mines number more than 500 samples. This extraordinary collection makes it possible to track the development of European textile technology of the time, allow us to follow the development of fibres, the introduction of colours and various decorative designs, and how textiles were shaped into garments.
The Naturhistorisches Museum Wien is a partner in a HERA JPR-funded project, "Creativity in Craft Production in Middle and Late Bronze Age Europe (CinBA)". Together with scholars from the NTNU, Department of Archaeology and Religious Studies, Dr Grömer and her colleagues form the Textile Team of the project.